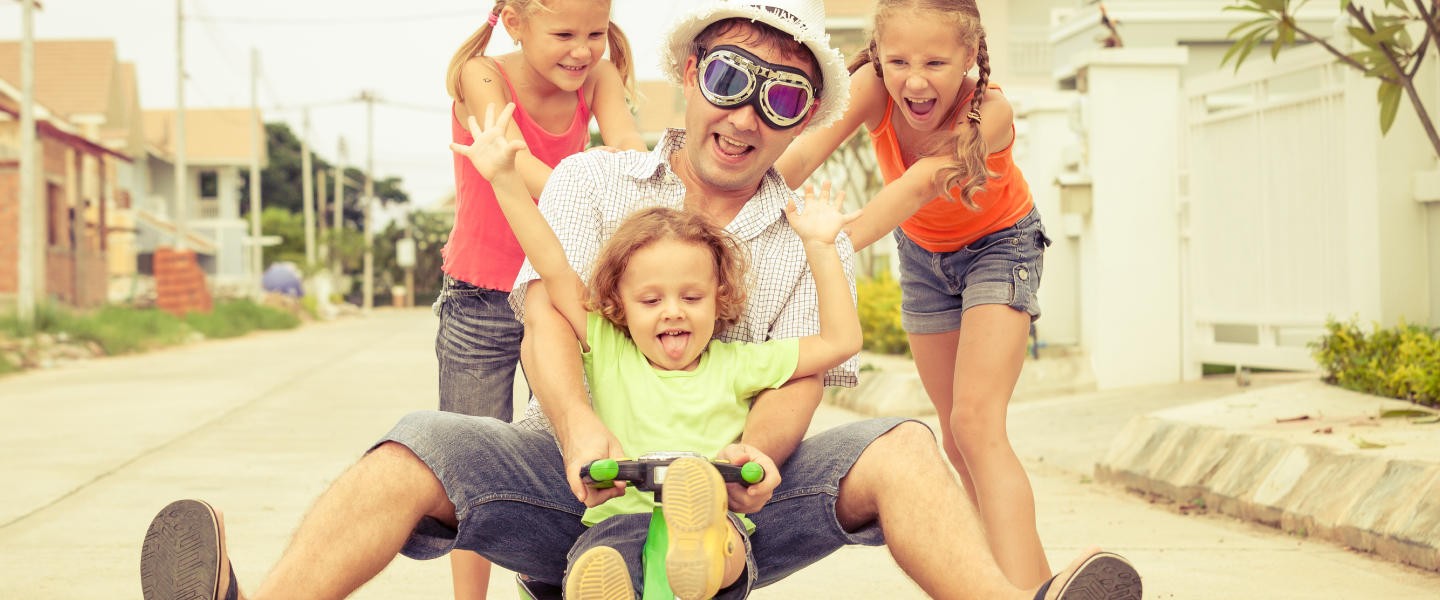 Nanny Support
Full Time Live Out Nanny:
A full time live out position is where a nanny will work between 30-50 hours per week for your family. A typical full-time nanny prefers a fairly set schedule in hours and would expect a set weekly pay.
Full-Time Live In Nanny:
A full time live in position is one where the nanny lives with you in your home. They will typically live in an area separate from the family such as an in-law suite or finished basement apartment where they will have their own bedroom, bathroom and living area. A live in nanny is not a 24 hour caregiver but would work a set schedule each week similar to a full time live out nanny. A live in position is beneficial for families where the parents have irregular work schedules.
Part Time Nanny:
A part-time position would be where the nanny would work up to 29 hours per week for your family. Typically the nanny would have a set schedule each week. Part-time nannies can vary from after school positions, just a couple of days per week, a weekend position or any other schedule as long as the nanny is guaranteed a certain number of hours per week.
Family Assistant/Household Manager:
A family assistant/household manager is typically for a family who has kids in school at least part of the day and needs extra assistance for the family or household during that time. A family assistant can help with anything from meeting with home maintenance workers, preparing meals, grocery shopping or other errands, light housekeeping, helping maintain a family calendar and organization. A family assistant is a flexible position that you can really tailor to your family's specific needs.
What is a nanny?
A nanny is a child care specialist. A nanny's workplace is in a family's private home and his/her job is providing one-on-one attention and the best possible care for the family's children. The work may be full-time or part-time, and the nanny may or may not live with the family. The nanny's role is to provide support to the family by serving as a loving, nurturing and trustworthy companion to the children. A nanny tends to have special child care skills and a deep love and understanding of children. A nanny offers the family convenient, high quality care to meet each child's physical, emotional, social and intellectual needs.
What does a nanny do?
A nanny is responsible for the complete care of their employer's children. Duties include tending to each child's basic physical needs, meal planning and preparation, laundry and clothing care, organization of play activities and outings, providing behavioral guidelines and disciplining when appropriate, intellectual stimulation, language
Nanny Responsibilities:
Feeding baby
Bathing baby
Doctor's appt.
Sterilizing, cleaning and preparing bottles
Setting schedule for sleeping, meals, nap and play-time
Laundering baby's clothing
Tidy/Clean nursery, baby's playrooms
Maintaining and restocking all supplies
Sterilizing and keeping age appropriate toys safe and in good working order
Keeping a daily journal of baby's feeding/napping schedules and moods; and medications if needed
Running baby-related errands
Transporting babies to activities
Read and do stimulating activities at each developmental milestones
Planning, preparing and cleaning up after children's meal
Packing children's lunch
Children's laundry
Children's shopping
Straightening up children's play area(s)
Overseeing children's straightening up their own rooms/play areas
Transportation to/from activities
Coordinating play group activities
Running child related errands
Event and entertainment planning and organization for children activities as needed
Montessori Philosophy is
Forehead Kisses Nanny believe…
From birth, infants are receptive and respond to all aspect of their environment.
Babies are complete human beings that absorb every sight, sound, smell, taste, and touch around them.
These first experiences become one of the earliest memories.
During the first three years of life, the brain absorbs and processes more information that at any other time in life.
Soothing and Settling
Babies need to be spoken, cooed, sung, and read to.
Adults should use soft tones when interacting with infants.
Babies should be held often (one cannot spoil a baby by holding them).
Communicating with Infants
Communication involves not only words and tone, but body language, attitude, actions and reactions.
Genuine appreciation and respect for children is shown by the caregiver at all times by speaking and listening respectfully.
Speak quietly, slowly, and clearly, looking into the eyes of the child.
Communication with touch should be used often in the form of cuddling, rocking in a rocking chair, and stroking or massage.
Model grace and courtesy, using words such as "May I?", "Please", and "Thank you" to even the youngest of infants.
Slow down and match the pace to that of the child.
Practice proactive guidance, rather than empty praise or punishment.
Socializing is an everyday experience.
Interventions should be done quietly, gently, and only when necessary.
Directed choice should be implemented.
Feeding
Feed infants according to their needs.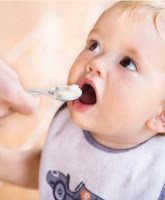 Hold infants while they are being fed.
Eating is a social experience. Look into his or her eyes while you are feeding them so they know you are present and aware.
Speak very little to young infants while they are eating so they can simply focus on the pleasure of being held and receiving nourishment.
Introduce older infants to hand-washing before and after eating.
Wean infants directly from a bottle to a small cup, not a sipping cup. This helps the children move towards independence. Involve the child in helping clean up spills.
As soon as the infant can grasp a utensil, introduce spoons and forks for their own use.
Model appropriate serving and table manners.
Serve homemade baby food preferably using organic materials. Organic food has more taste and texture than commercially prepared baby food.
Diapering
Cotton diapers help babies sense when they are wet and help them learn when they urinate. This is important when the child is ready to learn how to use the toilet.
Diapers should be changed as soon as they are wet or soiled.
Cornstarch helps protect the skin from chafing and is a natural alternative to powder.
Sleep
Babies need to sleep not only to rest, but to allow their minds to process the experiences that have been absorbed while they are awake.
Place babies on their back to sleep to reduce the risk of SIDS.
Allow babies to wake up on their own, if possible.
The Environment
Infants should experience a wide variety of environments.
Floor time is crucial.
Experiencing the outdoors and nature should start early.
Offer developmentally appropriate toys at all stages.
Allow time for infants to play independently and with adults.
Observe when the child is ready for new experiences and provide new learning experiences as are developmentally appropriate.
Support Competence and Independence
Even young infants need to feel they are important and needed members of the family and their environment.
Allow the child as many daily opportunities to develop competence and independence.
Include and involve the children in daily routines.
Show the children how to take care of their environment. Talk to infants about how you are putting the toys away. Older babies can help clean their play area. Toddlers can carry items or help set the table.
When the child is able to stand steadily, diapering should be done standing up, with the child encouraged to take over much of the routine. This is in direct preparation for toileting.
Toileting
Learning to use the toilet is a practical life skill that the child develops when she is ready, interested, encouraged, and provided the opportunity to practice.
Steps that lead to being able to toilet are:
o Recognizing when diapers are wet or soiled
o Staying dry for at least 2 hours
o Wishing to avoid wetting or soiling in diapers or underwear
o Recognizing the physical signs that the bladder or bowel needs to be empties
o The ability to get oneself to the toilet
o Being able to pull down one's own pants or underwear
o Being able to seat oneself on the toilet
o Being able to sit long enough to empty the bladder or bowels
o Being able to wipe
o Being able to get down off the toilet
o Being able to flush
o Being able to wash and dry one's own hands
Cloth underpants should be used during the daytime so children have the opportunity to recognize what "wetness" feels like. Disposable training underpants prohibit the child's ability to sense when they are wet.
Consistency is key.
Clothing with elasticized waistbands allows the child to pull their own clothes up or down.
Accidents are normal and to be expected. They should be treated respectfully. Children are involved with helping change their clothes and clean up.
Presenting Learning Activities to Infants
Have prepared materials and activities on hand for when the child expresses readiness.
Choose materials and activities that will interest the child and appeal to her senses.
Introduce the idea of a work space using a mat placed on a rug. This helps develop the child's sense of order as well as helping learn to set and clean up her area.
Present familiar and unfamiliar activities equally.
Present activities only when the infant is alert, comfortable and rested.
Wait for the child's attention before presenting the activity.
While presenting, move slowly so the child can watch what you are doing.
Hold objects at the infant's eye level until vision is properly developed.
If the child becomes frustrated or irritable, calmly finish the activity and take the infant with you to return the materials.
Stay attentive to safety.
Allow the infant to explore freely, as long as she's not in danger.
Observing and Sharing Information with Parents
Caregiver does a Baby log
The baby log should include, information on daily routine, feeding, sleeping, diapering, as well as special developmental milestones.
A digital camera may be used during the day to document activities and milestones.
Newborn
Handheld toys. It may be awhile until an infant can hold them, but held directly in their line of vision, infants can at least bat at them.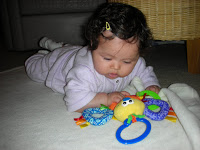 Music boxes and CD players that play a pleasant variety of music will help soothe an infant.
Mobiles that attach to the side of the crib with high contrast color and pattern are a favorite. Infants also like ones that play music.
Wrist or ankle rattles allow infants to experiment with cause and effect.
3-6 months
Activity centers are for infants who are still horizontal. Infants can bat at toys, spin spinners and turn dials.
Lightweight rattles are great for making noise.
Activity bars keep infants occupied while in the car or stroller.
Soft stuffed animals with no potential choking hazards are good at this age since they start forming attachments to plush animals at this time.
6-12 months
Mirrors are good toys for infants because they enjoy looking at themselves. Mirrors help strengthen the muscles in their eyes as they learn to focus. Mirrors also help young children develop a sense of self.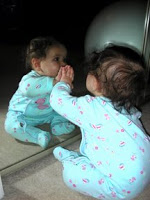 Wooden puzzles help young children develop their fine motor skills and encourage spatial awareness.
Rhythm instruments help children learn about cause and effect. They also aid in developing eye-hand coordination and fine motor skills.
Teething rings help children find their mouths and help teach the beginnings of self-help care.
Push toys at this age should be large, simple animals or cars with wheels that turn easily and encourage children to move and crawl.
Stacking and Nesting toys teach order and control of error.
Pail and Shovels are great for filling up and dumping out.
12-18 months
Push toys for early walkers should have a rigid rod to push the toy ahead of them.
Blocks for stacking and sorting. They can be interlocking plastic blocks, as small as 2" x 4", wooden geometric blocks, or large plain cardboard blocks for building.
Water toys provide hours of fun. Look for toys that float, water mills that the child can pour water into to create movement, watering cans, and child safe paint brushes to "paint" with water. (Adult supervision should always occur with water play).
Balls that are easy to grasp help children at this age learn to catch. Watch for balls that are too small that might present a choking risk.
18-24 months
Picture books encourage intimate time spent with the caregiver and child. They also teach pre-reading skills, such as book orientation and talking about books.
Push toys for this level depict adult activities such as vacuuming, mowing the lawn, shopping carts or doll carriages.
Climbing gyms provide a safe place to climb, hide, slide, and practice emerging motor skills.
Ride-on toys are great. Some come with handles so adults can push when little legs get tired. Avoid motorized ones that do the moving for the child. Also, they are still quite young to use pedals.
Train sets help build manual dexterity. They also start to see how objects move differently on different surfaces.
Crayons, especially washable ones, are a great creative outlet. Offer only a few jumbo-sized crayons at a time so as not to overwhelm your young artist. Also, taping the paper in place makes sure the paper doesn't slide or tear.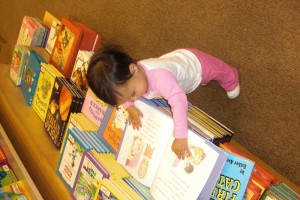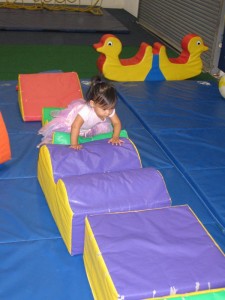 Maria Montessori discovered that children were better learners in the years up to the age of
six than they ever will be again and that they can learn almost anything, provided the right
techniques are used. In a Montessori classroom children are encouraged to choose every
activity they wish to work with and to complete it in their own time. Montessori found that once
children are accustomed to making their own choices, they are naturally attracted to what will
best serve their educational needs.
A child in a Montessori school will be given the opportunity to learn the simple practical tasks
that busy parents cannot always teach. They are encouraged to know and respect their
surrounding environment and to care for themselves and others in their everyday routine.
The Montessori classroom always aims to promote a calm, relaxed and harmonious
atmosphere. Emphasis is very much on children doing things for themselves, learning to take
care of their own needs and using the concentration they have acquired from being allowed to
work without interruption on a chosen task.
Once children become familiar with the classroom, they are ready for the next stage in their
education. These foundations begin with the development and refining of their senses with
special 'sensorial' tactile and hands-on materials. As with all Montessori materials, the main
focus of the exercise is working from a 'concrete to abstract' concept so that the child can
see, feel and experience the idea in the most simple terms before considering the same area
of learning as a much bigger picture.
Reading and number work is also taught with specially designed materials, with particular
emphasis on shape and form in conjunction with the sound or quantity as a separate, parallel
learning area before combining the two. In this way, the child understands both areas of
learning before he or she has to consider the concept as a whole.
An important factor of the Montessori teaching method is that all equipment has an in-built
'control of error' factor which allows the child to discover and correct his or her own mistakes
without having to ask for help. Problem solving then becomes the child's responsibility and
awareness and confidence are greatly enhanced by the inclusion of this factor. In addition
Montessori teaching tries to teach with kindness, using the positive incentives of pride in
achievement, craftsmanship or a job well done. It avoids any approach which uses
punishment or prize, blackmail and bribery. Maria Montessori discovered that children are well
aware of the value of their achievements and can see through lavish praise, especially when
a mistake is obvious. Likewise, because punishment usually humiliates and often causes a
child to stop trying rather than to try and improve, it does not feature in a Montessori nursery.
Discipline within the Montessori classroom is all important but this is always applied with care
and consideration to the situation of the child. Montessori teachers are trained to be
consistent but not to ask for behavior which is beyond the child's capability. No child is
allowed to behave dangerously, but the teacher exercises control by focusing on the problem,
not on the child. For example, if a child is jumping on a chair the teacher would remove the
chair without comment and lead the child to a place where he or she could jump in safety. The
problem is solved practically and simply with the minimum attention on the unacceptable
behavior, which may have reinforced it, or on the child personally.
Maria Montessori did much of her work in the period between the wars when many dedicated
themselves to building a world where war would not be possible again. Her particular cause
was to help children to learn to live together in harmony and was dedicated to her belief that
although adult behaviour cannot be changed through mere teaching, her way of nurturing
children and helping them to develop could be a positive force which would last into
adulthood. Now, eighty years after founding the first Montessori school, the approach is
spreading rapidly as parents seek a middle way between rigid teaching methods and undue
permissiveness.
(Included in the above is information from an article by Helen Wheatley in the Montessori
Child magazine)