Breast Feeding & Bottle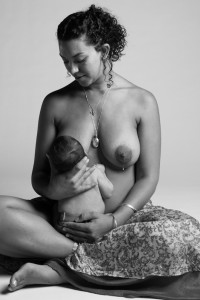 Getting Comfortable
If you're a first-time parent, breast feeding your newborn may seem complicated until you've had some practice. But a little preparation can help you feel more comfortable.
Before you begin nursing, take a look at your surroundings. Many mothers like to sit in a glider or in a cozy chair with armrests. Footstools and pillows can provide extra support (try donut-type nursing pillows or "husband" back pillows with arms on each side for nursing in bed).
It's also important to find a comfortable nursing position (or hold) for both you and your baby. Here are some common ones to consider.
The Cradle Hold
This is the first hold many mothers will try, often soon after their babies are born. To start, cradle your baby's head in the crook of your arm with your baby's nose opposite your nipple. Use that hand to support your baby's bottom. Turn your baby on his or her side, so that your baby is belly to belly to you. Then, raise your baby to your breast. You can support your breast with your other hand.
The Cross-Cradle or Crossover Hold
This hold is similar to the cradle hold, but your arms are positioned differently. Instead of supporting your baby's head in the crook of your arm, use the hand of that arm to support your breast. Your opposite arm should come around the back of your baby. Support your baby's head, neck, and shoulder by placing your hand at the base of your baby's head with your thumb and index finger at your baby's ear level. Like the cradle hold, your baby will be belly to belly to you.
The cross-cradle position allows you to have more control over how your baby latches on. Many moms find that they're able to get their babies latched on more deeply with this hold
How do I store my breast milk?
You can freeze and/or refrigerate your pumped (or expressed) breast milk. It's important, though, to store it in clean and sterile bottles with screw caps, hard plastic cups that have tight caps, or nursing bags (pre-sterilized bags meant for breast milk). Also make sure to put a label on each indicating when the milk was pumped. You should not add fresh milk to milk that is already frozen.
How long, exactly, can I store my breast milk?
You can store it at room temperature:
for 4 to 8 hours (at no warmer than 77° Fahrenheit, or 25° Celsius)
You can store it in the refrigerator:
for up to 2 to 3 days at 32°-39° Fahrenheit (0°-3.9° Celsius)
You can store it in the freezer (be sure to leave about an inch of space at the top of the container or bottle to allow for expansion of the milk when it freezes):
for up to 2 weeks in a freezer compartment located inside the refrigerator
for 3 to 4 months in a freezer that's self-contained and connected on top of or on the side of the refrigerator and is kept at 0° Fahrenheit (-18° Celsius). But be sure to store the milk in the back of the freezer, not in the door)
for 6 to 12 months in a deep freezer that's always 4° Fahrenheit (-20° Celsius)
If you thaw frozen milk, you can refrigerate it and use it within 24 hours, but do not refreeze it. And don't save milk from a bottle that your baby already drank out of.
It's also important to note that different resources provide different variations on the amount of time you can store breast milk at room temperature, in the refrigerator, and in the freezer. Talk to your doctor if you have any concerns or questions
How much of my milk should I store in the freezer?
Although some women may choose to pump large volumes to be frozen, it's a good idea to actually store the breast milk in small portions so as not to waste any. Label the bottles, cups, or bags 2 oz. or 4 oz. (59.1 or 118.2 milliliters), then freeze them.
You could also pour the milk into ice cube trays that have been thoroughly cleaned in hot water, let them freeze until hard, store them in freezer bags, then count up the amount of cubes needed to make a full bottle.
My frozen breast milk changed color. Is this OK?
Breast milk that's been frozen or refrigerated may look a little different from fresh breast milk, but that doesn't mean it's gone bad. It's normal for breast milk to look slightly blue, yellow, or brown when refrigerated or frozen. And it may separate into a creamy looking layer and a lighter, more milk-like layer.
How do I clean bottles and pump parts?
You'll need to boil the nipples, bottles, and washable breast pump supplies (i.e., the breast shields and any other part that touches your breasts or your milk) for 5 to 10 minutes. Check the manufacturer's recommendations for the length of time to boil the parts. (You also can sterilize them with a store-bought countertop or microwaveable sterilizer, but boiling works just as well and costs nothing.) Then you'll need to wash the bottle and pump supplies in hot, soapy water (or run them through the dishwasher) after every use after that. Bottles and nipples can transmit bacteria if they aren't cleaned properly.
DR BROWN GLASS BOTTLE ARE THE BEST!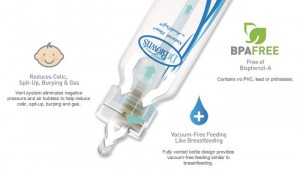 Dr. Brown
Dr. Brown's baby bottles are favored by moms and dads because the Patented Internal Vent System helps reduce feeding problems like colic. Now, a university study has determined that our bottles provide important vitamin benefits to your baby, as well.
Dr. Brown's bottles are made of BPA-free polypropylene plastic or BPA-free borosilicate glass. All components of the Dr. Brown's bottle, including the vent insert, vent reservoir, travel disk, nipple collar, and cap are also BPA-free polypropylene. The nipples are made of medical-grade silicone.

Dr. Brown's Natural Flow® baby bottles have received numerous design awards and acclaim from the medical community. In fact, many of Dr. Brown's bottles go to hospitals, NICUs, and doctor offices. Most important, moms are talking and they're sharing with excitement the improved feeding habits of their babies.
Is it safe to microwave my baby's bottles?
The microwave can create dangerous "hot spots" in bottles of formula or breast milk, so you should never microwave them. Instead, you can run the bottle or freezer bag under warm water for a little bit, swirl the bag or bottle around in a bowl of warm water, or thaw the milk in the refrigerator. You can also put your baby's bottles in a pan of warm water (away from the heat of the stove) and then test the temperature by squirting a drop or two on the inside or your wrist before feeding your baby. You also can get bottle warmers for use at home or in the car.
Earth's Best Organic Infant Formula when pumping is not working or you run out of breast milk!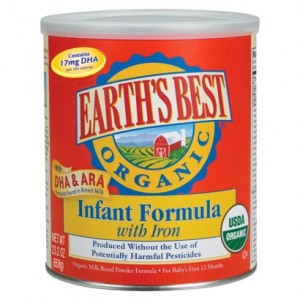 Earth's Best Organic Infant Formula Dairy w/DHA
Breast milk is the first choice for your infant's growth and development, but if and when you choose formula, you should feel good knowing there is formula from Earth's Best, the leading organic baby food.
New Earth's Best Organic Infant Formulas with DHA & ARA, available in dairy and soy, are specially blended without the use of growth hormones, steroids, antibiotics, dangerous pesticides or chemical fertilizers. They are nutritionally complete to provide 100% of the essential nutrients doctors recommend for babies during the first 12 months of life.
Earth's Best Organic Infant Dairy Formula with DHA & ARA is made with high quality protein, carbohydrates, vitamins, minerals and essential fatty acids including DHA & ARA— special nutrients found in breast milk that are critical to baby's mental and visual development. Easy to digest, this formula meets all FDA requirements for infant nutrition with the added benefit of being organic.
The Earth's Best Difference:
-Made with Organic Ingredients – no harmful pesticides or chemical fertilizers
-Iron fortified; 100% nutritionally complete
-Contains DHA & ARA for baby's brain and eye development
-No artificial colors, flavors or preservatives
-Convenient powder form in re-sealable 23.2 oz canister
-Kosher certified*
-Wheat Free*
Produced without the Use of Antibiotics, Added Growth Hormones or Potentially Harmful Pesticides.
Contains: Milk and Soy. Good Manufacturing Practices are used to prevent introduction of undeclared allergens.