Best Toys
Best Infant Toys For Baby 2-7 Months
The best infant toys for this age groups is: baby playmat or play gym, stuffed animal/doll and baby mirror & books which have bold or primary colors. Baby mobiles and rattles also continue to delight your baby. However, watch your older baby carefully when she's playing with baby mobiles . Make sure she cannot reach and pull it down.
Other safety precaution you have to bear in mind when buying developmental infant toys for this age group are:
Safe. No string, no small size, and no lead paint.
For developmental infant toys like baby mobiles and playmat, make sure they're sturdy enough and can't cause any accident.
If you're buying stuffed animals or dolls, make sure the button, wiggly eyes and tiny things attached to it (if any) are secure.
1.  VULLI SOPHIE THE GIRAFFE TEETHER:)
Vulli Sophie the Giraffe Teether in Natural Rubber (Sophie La Girafe)
This retro '60s giraffe still stands out in a crowd. The classic teether taps into all of baby's senses. The giraffe's dark, contrasting spots catch baby's eye. Her playful squeaker perks up baby's ears. Her limber (chewable) legs, ears and horns soothe baby's sore gums. Her lanky legs and stretchy neck are easy for baby to grip from any angle. Made from all-natural rubber and food paint, Sophie the Giraffe is soft, bendy and baby safe.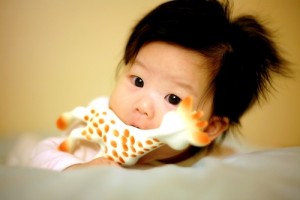 2. LAMAZE MORTIMER THE MOOSE:)
This merry moose makes a great first friend for baby, with soft, plushy fur and fun sound effects — crinkle, jingle, cuddle, squeak! And with its chewy antlers and clip-on link, it's the perfect, take-along teething toy. Hang from your stroller, car seat, or high chair. For newborns and up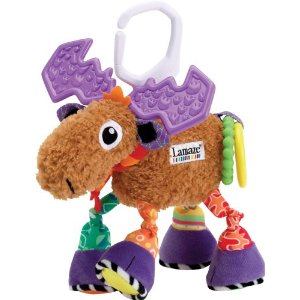 3. BABY EISTEIN TAKE ALONG TUNES:)
Promote music appreciation and auditory development by introducing your little one to baby-friendly versions of classical masterpieces by Mozart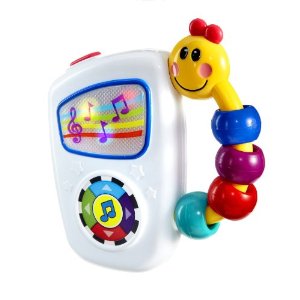 4. FISHER PRICE RAINFOREST JUMPEROO:)
A place full of wonderful sights and sounds…the Rainforest Jumperoo brings it all down to size for little explorers! Still tons of safe jumping fun (which will activate rainforest music and lights!), but now there are toys all around the rainforest—and overhead—with a spinning seat that helps baby explore them all. This baby jumper features a bobbing elephant, swinging monkey, spinning lizard and more that baby will just "go wild" for! Baby spins drum to activate lights and music (Mom can activate for four minutes of continuous play). The baby jumper's soft spring covers keep little fingers safe and three-position height adjustment ensures a custom fit for your child.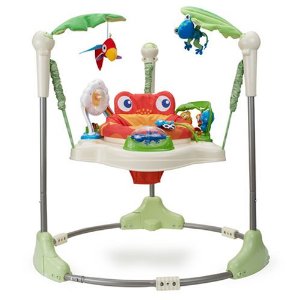 5. FISHER PRICE RAINFOREST GYM:)
Bring the magic of the rainforest to baby with the Fisher-Price Rainforest Melodies and Lights Gym. The large play mat has a quilted rainforest scene surrounded by a satin border. The Fisher-Price Rainforest Melodies and Lights Gym also features fun activities with 20 minutes of music. Two satin butterflies fly around above baby as colored lights pulse and while music plays. Rainforest lights and music for this baby play mat can be activated by mom or baby.
Once a baby reaches 2 months of age, it starts to be able to kick, reach, and poke. At 5 months, your baby will be able to flip over by herself, kick, reach, poke, pull, and grab toys. So any developmental infant toy which can stimulate them to move their body, hands and feet around is good.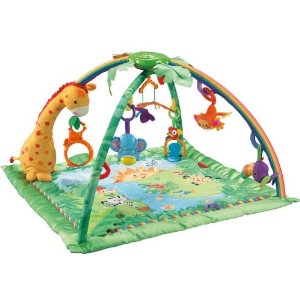 6. Classic Baby Beads:)
Grasp 'em, chew on 'em, fiddle the beads around! Babies are fascinated by this classic bead cluster, which they can squeeze and tease into endless shapes. Made of smooth, eco-friendly rubberwood, connected by stretchy cord. Amazingly fun; teething safe. A timeless baby sensory toy. For ages 3 months and up.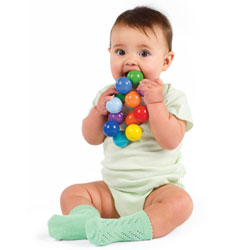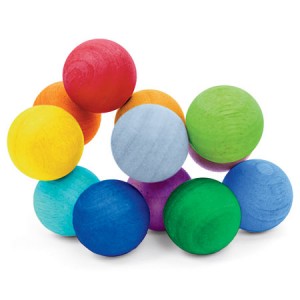 7. MANHATTAN TOY SKWISH CLASSIC:)
Intrigue and engage your little one with the colorful, curious Skwish Classic. Designed by Manhattan Toy, the Skwish appeals to your baby's visual and tactile senses, making this sophisticated toy a source of wonder and learning.
Ages: 6 mos+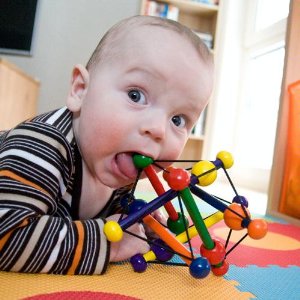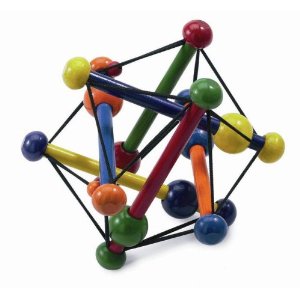 8. LeapFrog Learn & Groove Musical Table
A favorite among moms and kids alike, the award-winning Learn & Groove Musical Table engages and entertains with more than 40 learning songs, sparkling lights and lots to spin, slide, push, pull, open and close. In Learning mode, babies and toddlers can explore letters, numbers from 1 to 10, colors and opposites – in either English or Spanish. Flip the page to Music mode and your child can move and groove to songs and melodies, including nursery rhymes, real instrument sounds and upbeat dance tunes. Remove the legs for baby to play and explore on the floor, and then attach them for standing play. The detachable legs also allow for easy travel and storage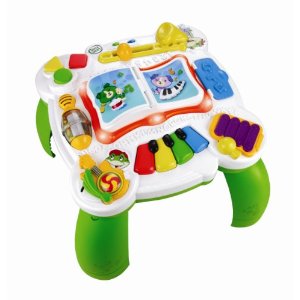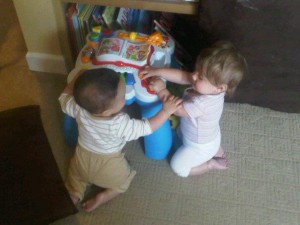 9) VETECH SIT-TO-STAND LEARNING WALKER:)
Your little one will love learning to walk with the Sit-to-Stand Walker. Start her out with the easy-to-remove play panel for floor play or fun on the run. Then step it up with the fun-to-maneuver walker. A medley of fun awaits — there are three spinning flowers, five piano keys, colorful rollers, three light-up shape sorters and a telephone handset. The Sit-to-Stand Learning Walker keeps baby on track by teaching shapes, colors, animals, music and more!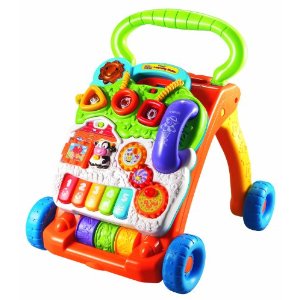 10 Exercising with your baby with a ball will help him/ her learn good movement.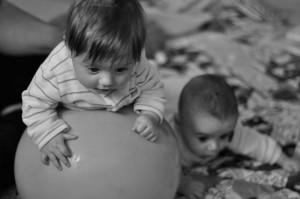 11) Books! How do you raise a reader?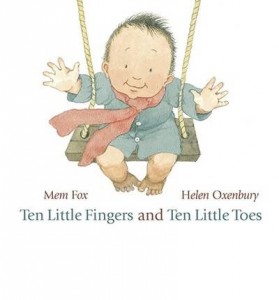 Ten Little Fingers and Ten Little Toes by Mem Fox
Nothing is sweeter or brings more joy than tiny baby fingers and chubby baby toes! All over the world, babies are different. Yet in some ways they are very much the same: each one has ten little fingers and ten little toes – to play with, to tickle, and to wave. And each child is very, very special to its parents…From Helen Oxenbury, best loved as the illustrator of the classic nursery join-in picture book "We're Going on a Bear Hunt", "Ten Little Fingers and Ten Little Toes" will fast become the essential book for baby playtime – and the perfect gift for a new arrival!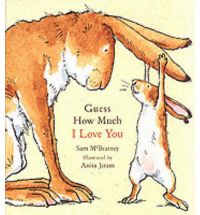 Guess How Much I love You? by Sam McBratney
A gorgeous book about a father rabbit saying goodnight to his son.
Parents often choose to read this book every night at bed-time so that it becomes a ritual for their child.
This is a lovely idea because young children love the security associated with rituals. They love knowing that the same thing will happen at the same time every night – it provides some structure for them in a world that can seem unpredictable and even a bit scary as they grow up.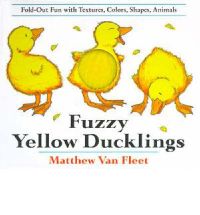 Fuzzy Yellow Ducklings by Matthew Van Fleet
This book has become a bit of a modern classic for little ones.
On each page there's a different coloured shape inset with a textured material – fuzzy, rough and so on. Turn the page and the shape is revealed to be part of an animal.
Different textures, shapes colours and animals and a surprise just over the page.
No wonder babies and toddlers love this book!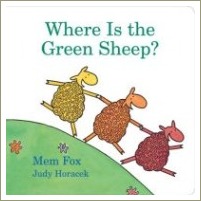 Where is the Green Sheep by Mem Fox
Babies and children love the colourful, funny illustrations and the repetition in this gorgeous book.
Mem Fox is an Australian literacy consultant and teacher and an author of many wonderful picture books for young children.
Children and their parents love her books, many of which feature Australian animals and settings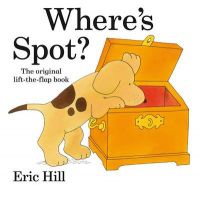 Where's Spot? by Eric Hill
This simple lift-the-flap book has bright, clear pictures which babies and toddlers love.
Even young babies get the lift-the-flap idea quite quickly. They get really excited as you turn each page, looking for Spot in all sorts of places around the house, lifting each flap only to find he's not there!
A great choice for your baby's first lift-the-flap book.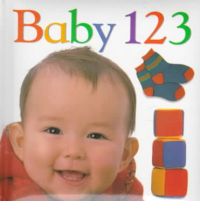 Baby 1 2 3 by Dorling Kindersley Publishing
This delightful first numbers book is one of the best books for babies of its kind because it combines all the things babies love …
pictures of babies doing everyday things
bright, clearly-defined photo-illustrations
a format small enough for little hands to hold
simple text
Page one, for example, reads One baby clapping and has a lovely photo of a happy baby clapping.